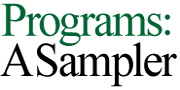 Marketing efforts that coordinate a number of elements toward a specific goal seem to work better than the sum of their parts might imply. Why, exactly, this is the case is unclear. But the phenomenon is consistently obvious, nevertheless. Combinations of advertising, direct mail, P.R. and a web presence can have a cummulative effect on people that is surprising.

An Author
One such "program" was for an author, Lisa Scottoline. She was a best-selling, award-winning novelist with a large, annoymous readership. Our job was to promote her through an interactive web site and build an internet audience with whom she could communicate directly. Some details: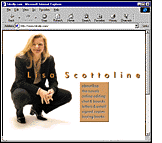 The Web Site
We started with the author's web site: www.scottoline.com is a pleasant place. It's simple and uncluttered with very consistent and straightforward navigation. The web site includes pictures of the author. It also reproduces first chapters of her novels and reprints of book reviews. We built pages for fan mail, a chat area and bulletin boards.
In order to draw attention to the site, we developed an area wherein the unpublished first chapter of Lisa's next book was posted. This post, however, was dynamic so that web visitors could edit the chapter, then send it to the author.
Advertising
To help promote the site we ran a series of fractional advertisments in The New York Times and The New York Times Sunday Book Review. These ads promoted a single idea (the dynamic editing) in a variety of amusing ways.
One of the ads appears to the left. If you'd like to see the whole series, click on it. (We're inordinately proud of these ads, so take a look at them.)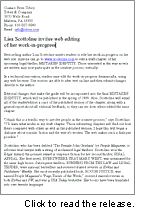 .
The Press Release
Those who declare themselves to be pioneers, evolve into them. Put differently, we all tend to become that which we claim to have already achieved. In order to create a buzz surrounding Lisa's site, we declared it the first pre-publication, dynamically edited invitation of its kind. (And, it probably was.)
You can never know for sure what aspect of a promotion worked. But press inquiries and interviews followed our advertising and P.R.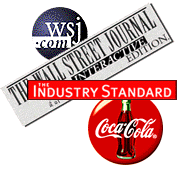 Associated Hoopla
Then the Wall Street Journal wrote about it and Coca Cola called to sponsor a promotion with the same unpublished first chapter. (Diet Coke distributed over 6,000,000 copies of the first chapter of Mistaken Identity.) And internet publications like The Standard wrote bits and pieces, adding to the interest in Lisa's books and greatly increasing the traffic on her web site.

Curious?
Click on the postage stamp to the left to get in contact with Tobey & Company.