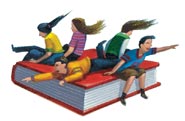 Chuckles



Bill Barnes and Gene Ambaum write a cartoon strip about librarians. We thought "Unshelved" would be entertaining to librarians. So, we negotiated the rights to email strips to our customers. Then, we put together a solicitation (email and print) offering to email an "Unshelved" strip every week to those who requested it.



We built a website to host this endeavor, managed to get some favorable press and promoted the effort on the company's main web page. The promotion was remarkably successful, in a number of ways. We solicited over 4,000 opt-ins from current or recent customers. We managed an 18% response on cold emailings. And, while sending "Chuckles" (along with brief promotional messages every third week or so) to thousands of librarians, we experienced less than a 2% cancellation rate over the first six months of the promotion.



To view the Chuckles home page, click here. For a look at the original outbound solicitation, click here. And, take a look at a typical "Chuckle" by clicking here.



Try www.chuckles.brodart.com